Student Support
Trauma-Informed Classroom 1: Student Supports
Trauma is more prevalent in our schools than we think, so this course is vitally important. By reviewing the definition of trauma and how the brain reacts, school personnel can learn strategies to respond in a manner that supports students and helps them begin to heal.
New Course
(Be the First to Review) | Be the First Student
Instructor: Jacque Beavers
Added 03/29/2023 English
What's included
5 Sections

2 Videos

2 Printables

Learning Options

Multiple Reflections

1 PD Clock Hour
Who's this course for?
Anyone having regular interaction with students would benefit:
All Teachers

Substitute Teachers

Future Teachers

School Leaders

Paraprofessionals
What You'll Learn
How to define trauma that affects students

What happens to the brain during the "stress cycle"

Which responses are better to support students
Course Syllabus for Trauma-Informed Classroom 1: Student Supports
Requirements
A willingness to learn and grow.
A computer or phone with access to the internet.
No paid software required - everything you need is in the Learning Module.
Course Description
Can you clearly define trauma and what it looks like in school? This course will help you understand its nuances, how the brain reacts, and specific responses you can offer to support your students.

This course will cover topics such as understanding the signs and symptoms of trauma, the impact of trauma on learning, strategies for creating a trauma-informed classroom environment, and building resilience in students. Participants will have an opportunity to participate in hands-on activities that allow them to practice implementing strategies for creating a positive and supportive learning environment. The course will also provide resources for school personnel to access additional information and support related to trauma-informed practices. Upon completion of this course, participants will be prepared to better understand and respond to the needs of their students living with or exposed to trauma.
Trauma-Informed Classroom 1: FAQ's
How graphic is this content?
In the design, we chose to use real, school-related examples which can be difficult. We have tried to be realistic without being graphic. As such, we are adding a content warning because of the topic's sensitive nature.
Is this course mobile-friendly?
Yes! The intentional design is for teachers to have choice in their learning, so you can learn with your phone, tablet, or computer. Please note that some of the takeaway documents are detailed and would be better viewed on a computer screen.
What is the best way to take these courses?
Because this content deals with challenging experiences, we would encourage multiple sessions to complete the course. That way, you can step away and process the information and return when ready.
Are there other courses on this topic?
Yes! Currently, a follow-up course that offers deeper insights for classroom support is being written and designed. If you have other ideas for a course on this topic, then simply send us an email: stridepdcenter@k12.com.
Jacque Beavers
Jacque Beavers is an Academic Tutor and Teacher at Stride. She has been an educator since 2012, previously serving at Texas Online Preparatory School as MTSS Coordinator and Lead Teacher. She brings her passion for academic intervention and trauma-informed practice, helping all learners reach their goals with individualized instruction.
Matthew Hoppe
Matthew Hoppe is an Instructional Designer at Stride. He continually draws upon his experience as a teacher, media producer, and director of arts to support various schools and nonprofits. His passion is to use what he has learned to support others as they pursue living their best lives.
Trauma-Informed Classroom 1
Students dealing with trauma is a real-world issue in schools. This course provides a basic overview by sharing a definition of trauma, descriptions of how the brain operations, and details on ways to respond appropriately.
Released 03/28/2023 English Instructor: Jacque Beavers
New Course
(Be the First to Review) | Be the First Student
\Learnworlds\Codeneurons\Pages\ZoneRenderers\CourseCards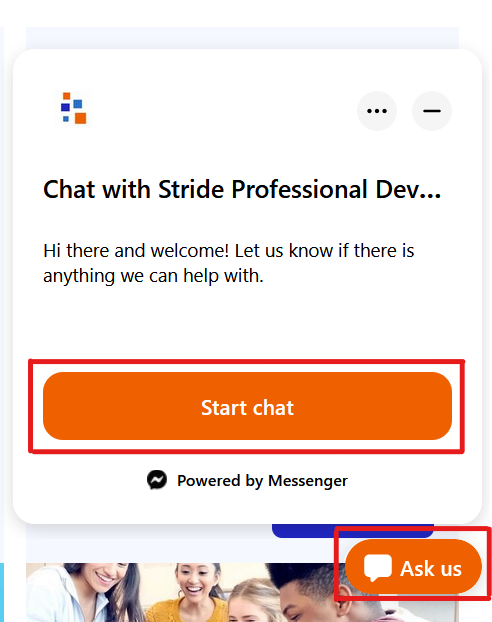 Here's How..
Just close this message and locate the orange 'Ask Us' button on the lower leftcorner of your device.
Empty space, drag to resize
Right over here