Contact Us
Submit The Form Below for more information.
As educators, we understand the value of clear communication, and we want to provide that to you. Questions, concerns, or comments? Reach out below, and we will respond to get you the clarity you deserve.
Thank you!


We do our best to respond in 24 - 48 business hours to questions and we take all suggestions into consideration for future reference!
We look forward to speaking further and thank you for your patience!
If you have a question that is not answered here, no problem. Check out our
FAQ page.
What are some of the benefits of the Stride Professional Development Center (SPDC)?
Our desire is to help you - the educator - to become the best person and professional possible. When you grow, then your students will grow. To meet this goal, we provide bite-sized professional development courses that include helpful downloadable resources. There is also an opportunity for bonus access to live events. All of this comes at a highly affordable cost.
What courses are included?
Whether you acquire the monthly or yearly subscription, you will receive access to the full suite of professional development content - full courses, mini-courses (approximately half an hour to complete), and recorded webinars for your individual learning. New material is added monthly at no additional cost, so be sure to check back often!
What is the focus of Stride Professional Development Center courses?
SPDC courses provide practical application for educators - whether teachers or leaders. If you are a new teacher or leader, we can suggest some courses for you; so just reach out and we'll share that segment.
Specifically, our courses are divided into these learning categories:
Equity in Schools
Leadership
School Counseling
Special Programs
Student and School Culture
Instructional Practices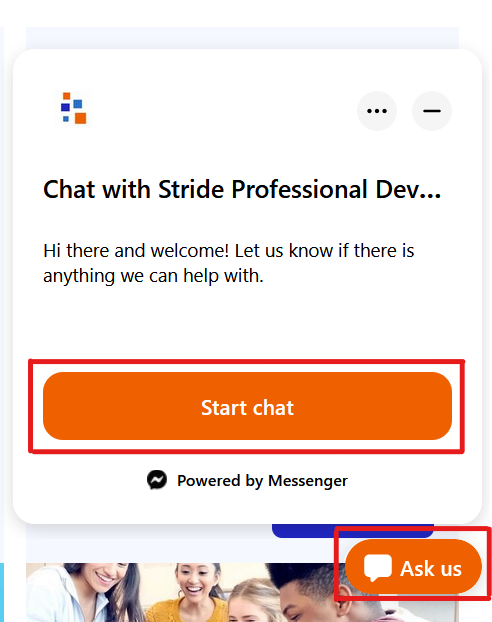 Here's How..
Just close this message and locate the orange 'Ask Us' button on the lower leftcorner of your device.
Empty space, drag to resize
Right over here