What to Expect

Our ever-expanding variety of flexible online classes, hands-on learning, live web seminars, and collaboration possibilities at Stride Professional Development Center provides an immersive learning experience specially designed with educators in mind. Stride offers affordable professional advancement, intentional learning, enhanced student outcomes, and the opportunity to build your professional network all in one location. Here's what to expect from us.
Instructors: Niyoka McCoy, Joel Medley, Matthew Hoppe, Jenny Kendall, and more!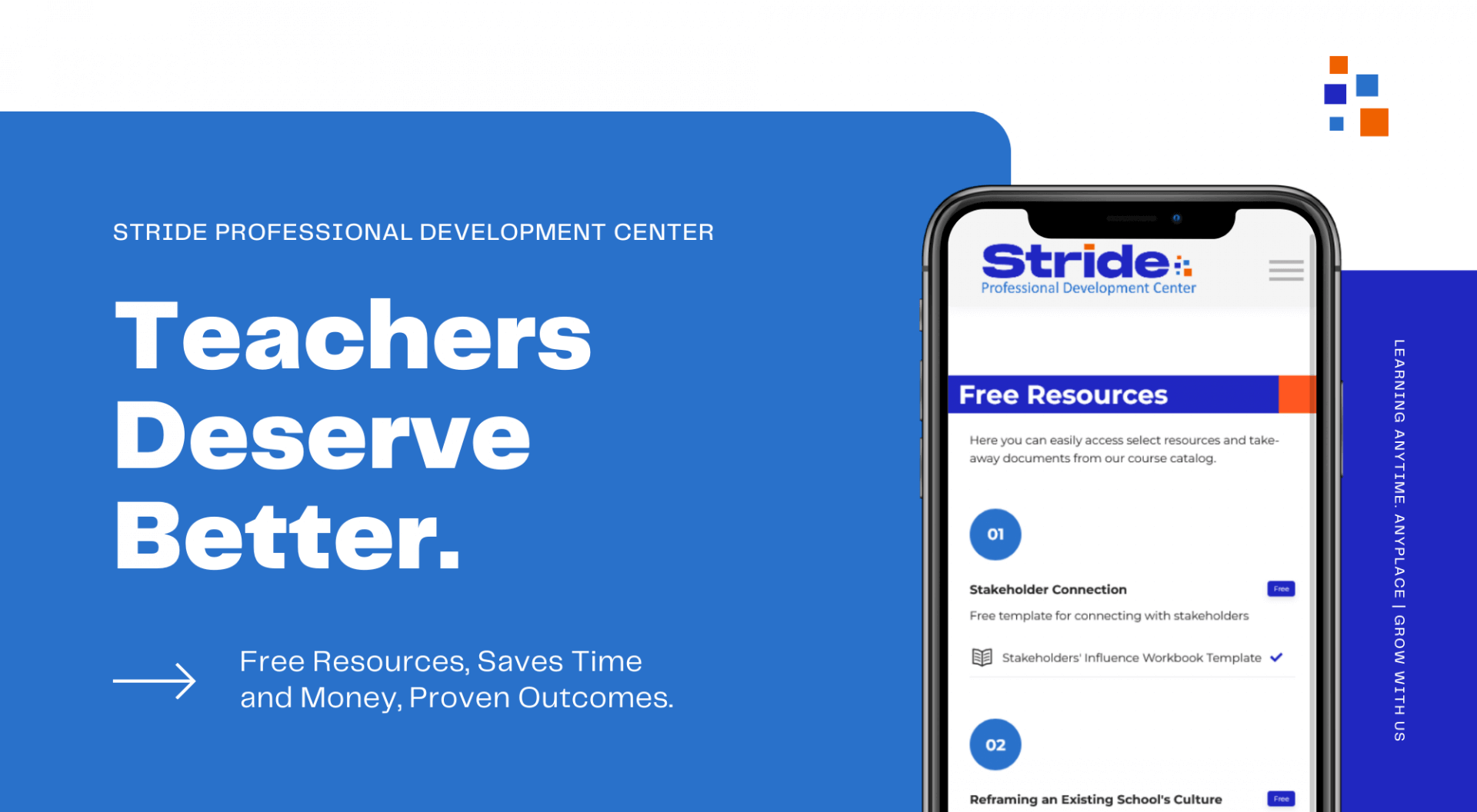 Upcoming Live Event
Feb 24th @ 11-5 pm EST - Live Webinar
Stories That Influence Change
Got Questions? Need help getting access? Come and join us for a live Promising Practice event. Let's build community
Available to Yearly members
Start your Journey Knowing What to Expect
—
Intentional Learning
Intentional, goal-based learning is linked to proactive and self-directed learning, which comprises organizing, implementing, and evaluating your educational experiences. In Stride's
professional development courses, intentional learning
always entails setting defined training objectives to better understand a certain concept, as well as frequently self-reflecting to evaluate your understanding and make the learning experience more fruitful for you. Goal-oriented deliberate learning is more efficient, productive, and enjoyable than incidental learning, in which you pick up skills randomly from your day-to-day classroom life.
Affordable Professional Development
Stride Professional Development Center believes that Teachers Deserve More, thus we take pride in providing quality professional development at fantastically low prices. You will receive specialist-developed, research-backed techniques, materials, and tools at extremely competitive rates. Our Stride subscription packages include a no-hassle 14-day free trial along with access to all of our lessons, which offer learning opportunities for both educators as well as district or school leaders. Our options are a small monthly membership fee of $4.99/month or a one-off fee of $49.99/month that covers the entire year, earning you a 15% discount!
Improve Student Outcomes
Our tailored resources at Stride Professional Development Center are linked directly to your day-to-day practice and are aimed at ultimately assisting in boosting student performance. To do this, we focus on high-level teaching skills, emphasize topical areas and student learning skills, as well as align our courses close to your curriculum. Stride's courses do not emphasize fundamental teaching skills such as presenting clearly or gauging students' comprehension in lessons. Rather, we emphasize higher-grade teaching skills including proactive class instruction and more frequent student assessments.
Expand Professional Network
At Stride Professional Development Center, we give you important exposure to online educator group forums and communication platforms where you can
learn from numerous other experts in the educational field.
We offer educators the opportunity to create programs and procedures that can be published and examined along with other teachers. You'll also be able to participate in collective live web conferences like our Promising Practices digital summit that we organize. Furthermore, with our portal, you will be able to download some excellent examples of educators' instructional materials from our site to benefit from other educators like yourself.
Choose Stride
for Your Professional Development Needs
Our skilled resource creators have extensive expertise in education, whether it be in private or public, hybrid or online, adult learning, or higher education. Our content developers have either taught as certified educators or supervised schools as licensed administrators. We leverage this vast expertise to give you the flexibility you want to navigate our broad assortment of professional materials. At Stride Professional Development Center, we'll help you learn today so that you can lead tomorrow.
View our online courses. Contact us if you have any questions!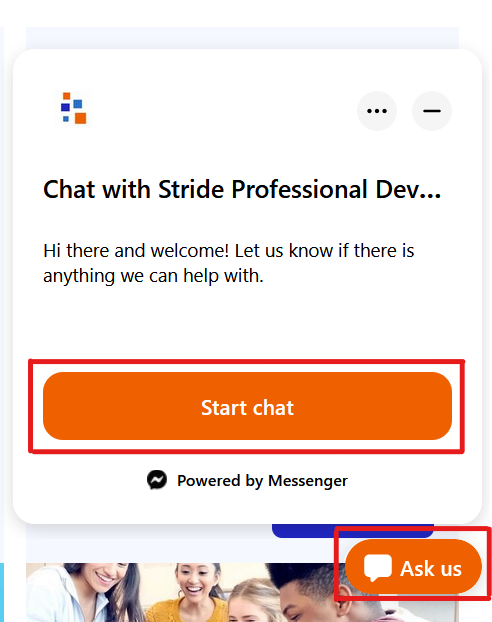 Here's How..
Just close this message and locate the orange 'Ask Us' button on the lower leftcorner of your device.
Empty space, drag to resize
Right over here