Expand Professional Network
Stride Professional Development Center is a comprehensive resource library of professional development programs, hands-on learning, and live events for teachers wanting to advance their skills. One of our main draws besides our flexible online courses and curated teaching resources is our Educator Collaboration opportunities which will help you expand your professional network.
Why Expand Your Professional Network?
As an educator, you work in an ever-changing sector that throws you unanticipated challenges while also providing you with opportunities to improve and grow. Educators across the nation are striving hard to balance the demands of their jobs while also seeking ways to safeguard their own well-being and improve student outcomes. This is where professional networking could be the key to cohesive success.
Over the course of your teaching career, you are continually working to be the greatest educator you can be in a diverse variety of situations. However, you don't have to go it alone. Consider how many pointers you've gathered from other educators in the staff room or by observing their classes. You could even have a coworker on standby to provide professional guidance on teaching Special Educational Needs (SEN) or how to incorporate new technology in class.
By enrolling in our professional development courses at Stride Professional Development Center, you will gain access to highly specialized instructors as well as a network of like-minded learners who together, help ensure that you acquire all the tools you need to succeed for yourself and your school community.
Your ever-growing Community
Click Below to Join a Growing Network of Teachers.
What Educator Collaboration Opportunities Do We Offer?
At Stride Professional Development Center, we offer access to educator discussion forums and communication tools where you can glean from many other professionals in the education sector. We provide opportunities for educators to develop programs and methods that can be shared and analyzed with other teachers. You'll also get access to collaborative live online events such as Stride's Promising Practices digital conference. Additionally, there are valuable educator instructional exemplars and materials on our website that you can download to learn from others like you.
Flexible schedule
Our online professional development training programs provide the flexibility and convenience of learning from the comfort of your home or classroom.
Customizable experience
We provide you with a variety subjects and curriculum that you can pick and choose from
Benefits of Expanding Your Professional Network
Professional networking has several advantages for teachers and educational leaders. When you are interconnected, you function as a unified body of educators instead of a hierarchical department. Being part of a teaching community allows you to collaborate with similar individuals to brainstorm solutions and develop your skills and expertise. Professional networking broadens your perspective on education and strengthens how you facilitate student outcomes.
An allied community of teachers can also inspire you to rekindle your passion and purpose and to be the change you wish to see in the education world. We get better when we connect with and absorb from others around us. Our Educator Collaboration opportunities at Stride Professional Development Center were created with these belief systems in mind.
Start Today
Start Today
Start Today
Start Today
Choose Stride for Your Professional Development Needs
Let Stride Professional Development Center harness our institution's 20-year experience to your advantage. Having helped over 2 million students and trained over 55,000 educators and administrators, you can count on the extensive experience and resources we carry to assist you in developing and expanding your professional network.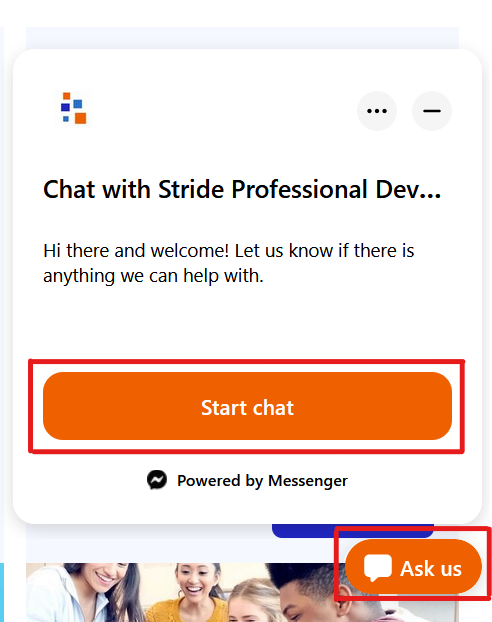 Here's How..
Just close this message and locate the orange 'Ask Us' button on the lower leftcorner of your device.
Empty space, drag to resize
Right over here