Leadership
Problem of Practice
To promote collaboration, you will learn a valuable problem-solving protocol that yields significant results, whether online or face-to-face.
New Course
(Be the First to Review) | Be the First Student
Added 01/09/2022 English
What's included
5 Sections

6-Part Unscripted Scenario

2 Downloadable Resources

Reflections and Checks

Customized Game Plan

Certificate: 1.0 PD Clock Hour
Who's this course for?
Anyone in a school, or any professional setting, can benefit from Problem of Practice.
School Leaders

Teachers

Counselors

District officials

Support Staff
What You'll Learn
The roles and responsibilities for an effective Problem of Practice

How the process works while observing a real and unscripted Problem of Practice experience
Requirements
A willingness to learn and grow.
A computer or phone with access to the internet.
No paid software required - everything you need is in the Learning Module.
Course Description
If you want to promote collaboration and problem-solving with your colleagues, then this course is for you. The tools learned can be applied to online or in-person meetings by tapping the expertise in the room for the benefit of all.
Problem of Practice
Does this course ONLY apply to school personnel?
No. The course is primarily designed for individuals wanting an effective tool to help with problem-solving and collaboration. Educators, parents, and others will benefit from this experience.
Is there additional information on Problem of Practice I could consider?
What is the best way to take this course?
The course is designed, like our other courses, to be as mobile friendly as possible. Just a few minutes a day with your phone and you complete this course in a week's time.
Are there other opportunities to see Problem of Practice in action?
Yes! Later in the year, we will be hosting live, national events. There is no cost. Reach out to us if you have a focus question you want considered. Look for more information on our site or send an email to stridepdcenter@k12.com.
Darren Reed
Darren Reed has three decades of public and private sector teaching and executive leadership experience. He currently serves as Senior Executive and business leader of the Stride Professional Development Center for Stride, Inc. (Formerly K12, Inc.) Reed has served in various leadership capacities within Stride including Senior Vice President/General Manager, where he held top line accountability for 21 online and blended school programs across eleven states.
Matthew Hoppe
Matthew Hoppe is an Instructional Designer at Stride. He continually draws upon his experience as a teacher, media producer, and director of arts to support various schools and nonprofits. His passion is to use what he has learned to support others as they pursue living their best lives.
Problem of Practice
Come learn the history, roles, responsibilities, and process for this consultancy protocol. The power of this course is in observing a real, unscripted Problem of Practice experience focused on career readiness for students.
Released 01/09/2023 English Instructor: Darren Reed
Related Courses in Leadership
\Learnworlds\Codeneurons\Pages\ZoneRenderers\CourseCards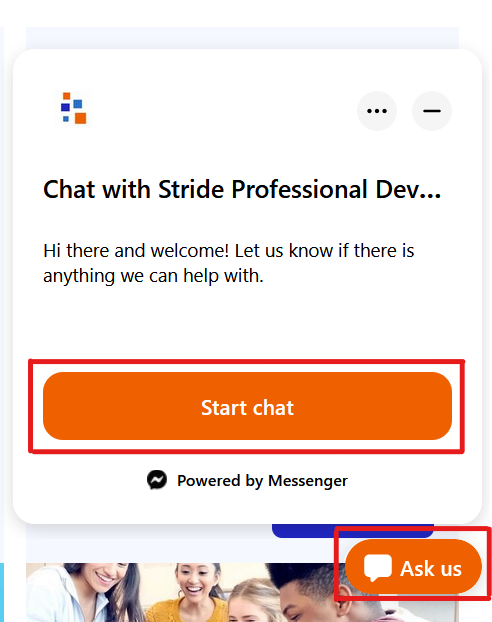 Here's How..
Just close this message and locate the orange 'Ask Us' button on the lower leftcorner of your device.
Empty space, drag to resize
Right over here