Project Based Learning
PBL 2: Collaboration
Create a culture of collaboration in which students are engaging with each other in highly productive ways as they complete their projects.
New Course
(Be the First to Review) | Be the First Student
Added 10/19/2022 English
What's included
5 Sections

1 Video

3 Mini-podcast

2 Printables

Multiple Reflections

1 PD Clock Hour
Who's this course for?
Rooted in the collaboration rubric, this course provides a clear depiction of a proficiency.
PBL Teachers

All Teachers

Future Teachers learning PBL

Leaders considering PBL
What You'll Learn
Various Methods of Collaboration Throughout a Project

The Proficient Application of Methods, Quality Use, and Participation for Collaboration
Requirements
A willingness to learn and grow.
A computer or phone with access to the internet.
No paid software required - everything you need is in the Learning Module.
Course Description
This mini-lesson seeks to answer the driving question: How can we, as PBL teachers, create a culture of collaboration in which students are engaging with each other in highly productive ways as they complete their project?
PBL 2: Collaboration FAQ
Does this course ONLY apply to PBL teachers?
As the title says, this course is part of a larger series focused on PBL. As such, the primary audience is for PBL teachers; however, it does include tips and strategies for collaboration that may be helpful for any classroom.
Do I need to take PBL 1 first?
The answer to that question is - it depends. If you are a veteran PBL teacher needing some additional ideas for collaboration, then no. If, however, you are new to the PBL model, then we would recommend starting at the beginning to move through them all.
What is the best way to take these courses?
We suggest that you avoid "binge watching" the PBL series. While lots of ground will be covered, you want the material to translate into practice. Our recommendation is to move through them one course each week so that you have time to read and reflect. If you desire a faster completion, we suggest no more than 1 course every other day. That way, you learn and then apply before moving on to the next.
Sarah Perroy
Sarah Perroy is the Project Based Learning Instructional Lead for Career Learning at Stride, where she uses her educational experience to craft high-quality professional learning experiences for teachers and leaders interested in implementing PBL. Having served as both a literacy specialist and English Language Learners teacher, she recognizes the value that PBL offers in promoting equitable outcomes for all students.
Matthew Hoppe
Matthew Hoppe is an Instructional Designer at Stride. He continually draws upon his experience as a teacher, media producer, and director of arts to support various schools and nonprofits. His passion is to use what he has learned to support others as they pursue living their best lives.
PBL 2: Collaboration
Learn what it takes to proficiently apply the criteria of collaboration.
Released 10/19/2022 English Instructor: Sarah Perroy
Project Based Learning Courses
\Learnworlds\Codeneurons\Pages\ZoneRenderers\CourseCards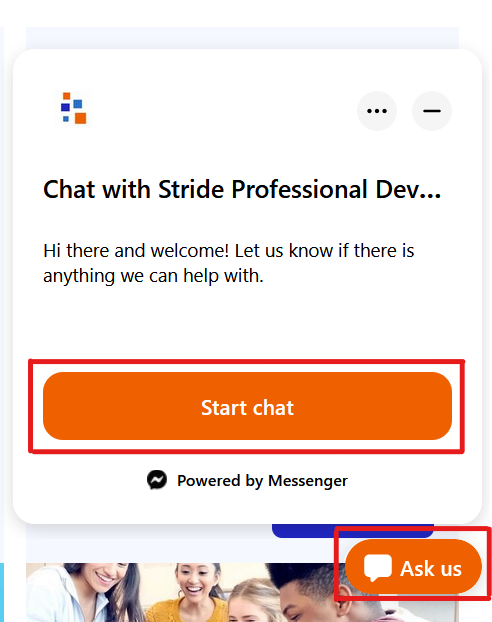 Here's How..
Just close this message and locate the orange 'Ask Us' button on the lower leftcorner of your device.
Empty space, drag to resize
Right over here