Blog Synopsis
Are you looking for a professional development course to boost your teaching career? If so, it can be tough to decide which one to choose. There are many various courses available, each with its own benefits and drawbacks. In this article, we'll discuss the different factors you need to consider when choosing a professional development course.
Write Down Strengths and Areas For Improvement
Listing down one's strengths and areas for improvement is an essential step for teachers seeking to grow professionally. By performing a thorough self-assessment, educators can gain critical insights into their skillsets, strengths and weaknesses. Doing so allows them to identify improvements that are necessary and become conscious of the particular development courses they need to take in order to find success in the classroom.

By being aware of their current competencies and areas needing refinements, teachers can choose development courses that are tailored to their individual needs and interests. Overall, crafting a list of personal traits is beneficial as it helps teachers create professional development plans that are meaningful, attainable, and serve their own objectives.


Set Goals Accordingly
Teachers are always encouraged to further their knowledge and develop professionally. Setting goals can be a great way to ensure that they are taking the right step towards success in their development journeys. Goals also provide focus and motivation, empowering teachers to stay on track with their objectives. Moreover, having a goal-oriented approach allows teachers to review their progress periodically, thereby enabling them to reflect on the effectiveness of their learning and make adjustments for improvement whenever necessary. Goals often create an environment of growth and progress, which is essential for success as a teacher.


Look For Development Opportunities That Meet Your Goals
Taking the time to properly research, source and review potential courses can be a great investment of your time. Finding courses that help you build important new skills and rethink existing skills can go a long way in advancing your career. You can look into local education conferences or talks as well as online programs with different price points and accessibility – or combination options –
depending on what works best for you. Talk to experienced colleagues or mentors who have already gone through some form of professional development and get their feedback before making a commitment to any one course so you can make the right choice and reap the maximum benefit from the experience.

Reflection
Sometimes it can be difficult to know which courses will provide the greatest benefit for your own personal development. Taking time to reflect on your unique goals and needs as a teacher can be of great help when deciding what course you should take next. Firstly, ask yourself where you want to be in terms of career growth one year from now. What professional goals are most important to you?

Once you've established how you want to progress professionally, take a look through the available courses and see which ones best align with your objectives. Start by thinking about which topics interest you and then review course syllabi and descriptions so that you can make an informed decision about what fits best for your needs.

Of course, the Stride Professional Development Center hopes to come alongside you and support your professional learning. Because, after all, we believe that Teachers. Deserve. Better.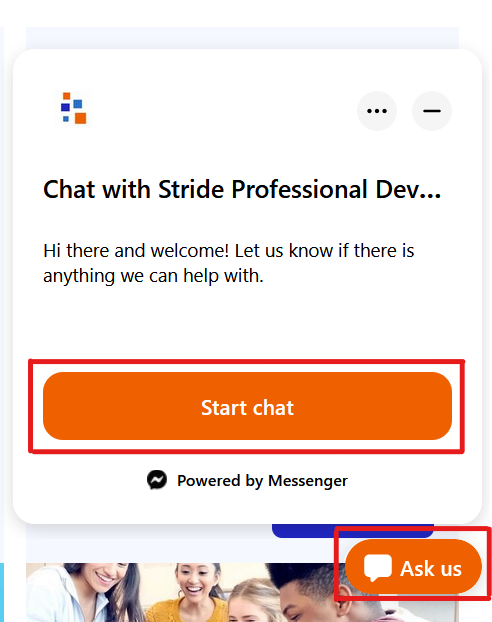 Here's How..
Just close this message and locate the orange 'Ask Us' button on the lower leftcorner of your device.
Empty space, drag to resize
Right over here